Steve Bannon, a long-time ally of former US President Donald Trump, has been indicted on charges of money laundering, fraud, and conspiracy.
Mr. Bannon, 68, is accused of defrauding fundraising donors in order to help Mr. Trump achieve his policy goal of constructing a wall along the US-Mexico border.
Prosecutors in New York claim he misrepresented to donors and funneled funds to two associates.
According to the former White House senior strategist, he is being hounded. On Thursday, Mr. Bannon surrendered to police in New York state after a grand jury announced six felony allegations against him.
The right-wing podcaster vowed to fight back as he marched past reporters into court, handcuffed.
"This is what occurs at the end of a dying dictatorship," he explained. "They'll never be able to silence me; they'll have to murder me first."
According to the indictment, Mr. Bannon told funders he was "sort of a volunteer" for the We Build the Wall non-profit, which gathered more than $25 million (£22 million) online from thousands of people.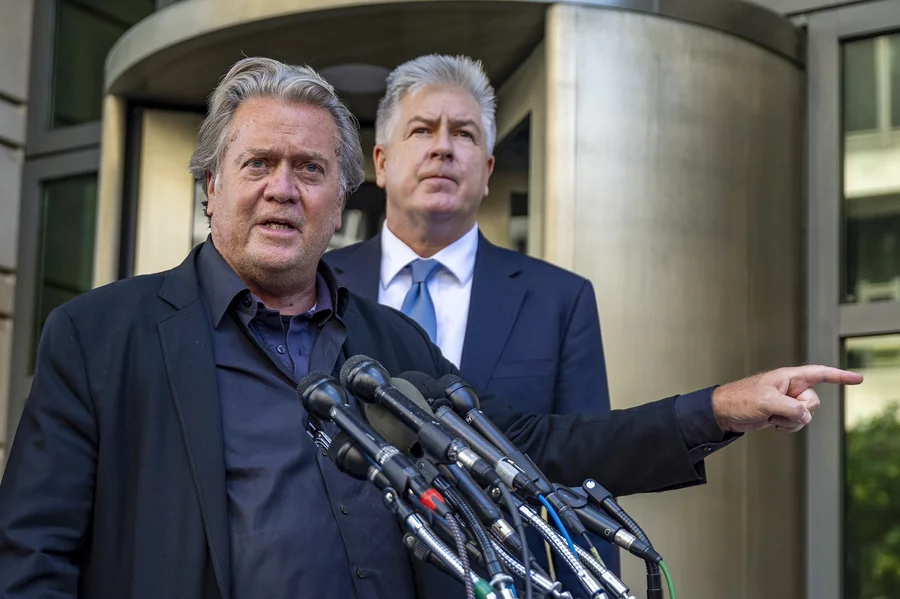 Mr. Bannon is reported to have routed hundreds of thousands of dollars to two pals despite his assurance that "not a dime" would be pocketed by him or others.
In 2020, federal prosecutors charged Mr. Bannon and the two men, Brian Kolfage and Andrew Badolato. However, while Mr. Kolfage and Mr. Badolato pled guilty to the charges, Mr. Bannon was granted a presidential pardon on Mr. Trump's final day in office last year and was thus dropped from the case.
 Pardons, on the other hand, only apply to federal offenses, and prosecutors in  New York state pursued similar charges against Mr. Bannon.
"Stephen Bannon acted as the architect of a multi-million dollar scheme to defraud thousands of donors across the country – including hundreds of Manhattan residents," district attorney Alvin Bragg, who led the probe, said in a statement on Thursday.
New York Attorney General Letitia James, whose office also worked on the case, added that Mr. Bannon had taken "advantage of his donors' political views to secure millions of dollars which he then misappropriated".
Ms. James stated that "strong political interests" that "believe they are above the law" must be held accountable. Mr. Bragg and Ms. James, both Democrats, have been looking into Mr. Trump and his business.
Mr. Bannon condemned the charge as "nothing more than a partisan political weaponization of the criminal justice system" when he handed himself in on Thursday morning.
He said that the fresh charges against him were "all about 60 days," a clear reference to the midterm elections in November.
Separately, Mr. Bannon was found guilty of contempt of US Congress in July after he refused to appear before the committee probing last year's Capitol rioting.
He will be sentenced in that case next month and faces up to two years in prison.