Defense calls electric truck entrepreneur an innocent victim of 'prosecution by distortion'
Prosecutors charged Trevor Milton, the founder of Nikola, with masterminding a plot to defraud investors by inflating the value of his electric vehicle company's shares at the commencement of his criminal fraud trial.
Nikola's former CEO sat in a grey suit during opening remarks on Tuesday in Manhattan, as deputy US attorney Nicolas Roos told jurors that he had deceived "innocent investors" and become a billionaire overnight as a result.
Roos told jurors, "This is Trevor Milton, and he committed fraud."
The battery-powered truck startup had been an investor favorite, with a valuation of $30 billion that temporarily overtook Ford Motors. However, its stock price began to fall in September 2020 after Hindenburg Research, a short-selling organization, produced a report claiming that Nikola was an "intricate fraud".
Nikola's market value is now $2.3 billion, down more than 90% from its peak in 2020.
Milton, who resigned as executive chair and chief executive officer of the Arizona manufacturer two years ago, has been charged with four charges of fraud. He is accused of deceiving investors by praising Nikola on Twitter and in interviews, causing the value of his own shares to skyrocket from $844 million when the New York-listed business went public to $8.5 billion at its peak. Milton has entered a not-guilty plea.
Prosecutors claimed that Milton misrepresented the worth of Nikola's shares when he used them to help acquire a ranch in Utah on one of the fraud allegations. The property was one of two on which he later posted a $100 million bail in court.
"Trevor Milton was committing securities fraud and wire fraud to pump his company's stock so he could get rich," Roos said.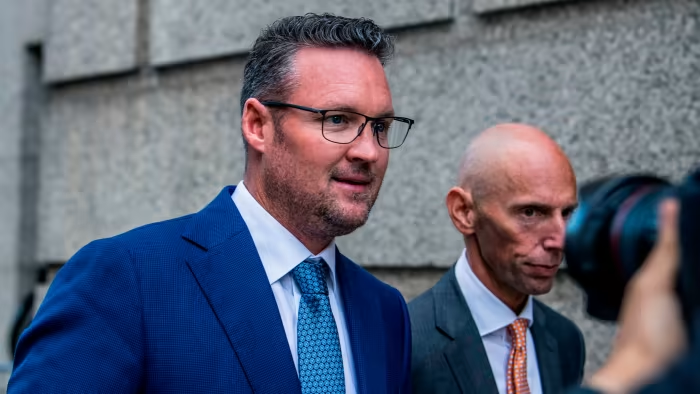 Roos set the tone for how prosecutors will approach the case, accusing Milton of lying about his company's capabilities and actively spreading those lies on platforms where he knew regular investors were listening.
Milton, according to the prosecutor, made a number of "false and deceptive remarks." He claimed that clients had placed binding orders worth billions of dollars in revenue rather than revocable reservations and that Nikola had invented batteries and other components when it was actually purchasing them from suppliers.
Jurors were also shown a now-infamous commercial video for an early Nikola prototype that appeared to be driving forward but was actually sliding downhill due to a lack of a propulsion system. Milton's defense team had attempted to prevent its screening, claiming that the footage was shot in 2017 before the events in the indictment, but Judge Edgardo Ramos overruled their objection.
Nikola agreed in December to pay a $125mn penalty to settle a civil fraud case brought by the US Securities and Exchange Commission. The company neither admitted nor denied wrongdoing.
Marc Mukasey, an attorney for Milton, delivered a searing response to the government's opening statement. He called the lawsuit "prosecution by distortion" as a definition of the word was projected to the room.
Mukasey said his client is an ordinary man whose father had worked as a railroad engineer, not a "corporate guy". He highlighted that Milton had hired "the best and the brightest" to work at Nikola as well as "great accountants" EY, all of whom shared his belief and faith in the company.
Without naming Hindenburg Research, Mukasey said the company had been attacked by a report that was intended to "short and distort" and called it a "hit job".
The defense's claim appears to be based on the fact that all material information about the company was publicly available to investors on the SEC's website as well as Nikola's own page. Milton had merely expressed his enthusiasm for the idea to investors because he was "flat-out delighted," according to Mukasey.
"His attachment to the stock price was like a parent's relationship to its child," Mukasey said, referring to his desire for the stock to perform well.